Saturday, December 23
Monday, December 18
Christmas 1979
I had to dig deep in the Adventure Lounge archives for this historic image of loot from Christmas 1979. A quick inventory finds:


Steve Martin's 'Let's Get Small' album


Case bowie knife


Comb


Assorted candy and nuts (Even though I'm allergic!!)


Bike speedometer


Bright yellow backpack


Mad Magazine


Cracked Magazine featuring Mork and Mindy


Ferrari remote controlled car (It turned left and backed up.)


Some type of pendant


$5
My parents had my sister dub the Steve Martin album to cassette to edit out the bad language so I could listen to it. I still have the backpack in my garage. I would rather have the Steve Martin album.
Labels: christmas
Tuesday, December 12
Christmas in New York
It's Christmas in New York between 1885 an 1895. This Christmas tree market stood outside the Barclay Street Station of the New York Central & Hudson Railroad. Signs on the station read "Freight Station," "Barclay Street Station," and "Pier 17". A lone shopper was brave enough to venture out into the cold following the rain. (Source: Library of Congress
online catalog
)
This details shows a blanketed horse pulling a wagon for The Mammoth Furniture House of Hoboken.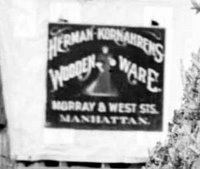 Behind The Mammoth Furniture wagon sits another for Herman Kornakreks Wooden Ware on Murray and West Streets, Manhattan.
---